The Right Social Security Attorney to Represent You
Searching for a social security attorney near you? With offices in Akron, Canton, Ravenna, and Medina, MGDP has the local support and experience to assist in filing your claim. We've helped thousands of Ohio residents get their Social Security benefits approved and are here to help you too.
If you're facing medical or physical disabilities that prevent you from working, our social security attorneys near me can help with each step of the process. Our attorneys stay with you throughout your entire case, from the start to the final administrative process.
Guidance in the Social Security Benefits Process
Whether you are looking to apply or would like to appeal a claim that has been denied, it helps to fully understand the Social Security benefits process. Working with the Social Security Administration (SSA) to get disability benefits is a long and complex process. An experienced social security attorney can assist throughout the process to avoid delays from missed steps and maximize your chances of receiving benefits.
Remember, the Marshall Grinder Debski Pitts Law Firm offers free initial consultations to evaluate your case and support you through the entire process.
What You Need to Know When Exploring the Social Security Disability Process:
Why Work With a Social Security Attorney Near Me?
There are dozens of benefits to working with an experienced social security attorney near me. Having a professional who can help you collect the right paperwork, evaluate your case, and provide guidance moving forward is invaluable. You'll not only have a better understanding of your situation, but you'll also be able to ask questions and learn more about the Social Security process as a whole. For example, if your claim is denied and you feel lost or hopeless, a social security attorney near me can help you reset and refocus. An attorney will also begin gathering the best information for your hearing as they learn more about your situation.
Although attorneys are not required at hearings, they can provide expertise that you simply won't have otherwise. Government statistics show that benefits are awarded far more frequently to those who have an attorney at their hearing. The attorneys at Marshall Grinder Debski Pitts Law Firm have worked with hundreds of SSD and SSI applicants to help them receive the benefits they deserve. Having a social security attorney near me at your hearing is also beneficial because these professionals have been through this process many times before. They will ensure you aren't caught off guard or struggling to answer questions.
What is SSD?
SSD stands for Social Security Disability. In order to receive SSD benefits, you must ensure you are eligible. Eligibility is based on:
You have worked long enough and recently enough to have paid taxes on your Social Security taxes on your income.
Are age 18 or older.
Are not currently receiving benefits on your own Social Security record.
Are unable to work because of a medical condition that is expected to last at least 12 months or result in death; and
Have not been denied for disability in the last 60 days.
The application process can be long and arduous, but an appeal can take even longer. It is beneficial to have a Social Security Attorney near me walk you through the application steps to make sure everything is in pristine condition before the process officially begins.
What is SSI
SSI stands for Supplemental Security Income. While many assume SSI is a Social Security program, it is actually a separate Federal income supplement program. To be eligible for SSI, applicants need to be disabled with minimum income. The SSI funding will assist with basic needs like food, clothing, and shelter.
Although the Social Security Administration provides a lot of information on its website regarding SSI benefits, understanding the eligibility requirements and the application process can seem daunting, particularly for applicants who are disabled. The attorneys at MGDP are certified in assisting you or your loved ones through this process. Additionally, if your benefits have ceased, our compassionate attorneys can help you understand why that occurred and how to regain your benefits.
Attempting the Application Process Without an Attorney
Working with an attorney through these processes is not a requirement. Even through the appeals process, you are not required to work with an attorney. However, when working with an attorney you can receive assistance with the following:
Gathering the appropriate paperwork
Filling out the application
Prepare witnesses
Representation during hearings
It is important to consider that according to the AARP, working with an attorney can boost your chances of succeeding in receiving your SSI or SSD payments.
Why MGDP?
The attorneys at Marshall Grinder Debski Pitts have years of experience in assisting clients with the social security application and appeals process. Our compassionate team will customize our services to meet you where you are in the process and in your life. Remember, if you do not win, we do not get paid. Contact us today.
Work With Marshall Grinder Debski Pitts Law Firm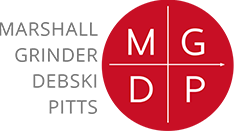 When it comes to finding support for your Social Security Disability claim, the Marshall Grinder Debski Pitts Law Firm can help. We serve clients across Northeast Ohio. Our attorneys in Akron, Medina, Canton, and Ravenna are here for you to get you what you're owed under the law.
How much does it cost to hire a Social Security attorney near me? Our firm handles these cases on a contingent fee basis. The Social Security Administration requires that we file our fee agreement for approval, and fee petitions are required in certain situations. What this means is that we won't get paid unless we can get you Social Security Disability benefits. Then, our fees are based on a percentage (about 25%) of any back benefits awarded by Social Security up to an amount determined by the Administration. Our attorneys near me also don't charge for phone or in-person consultations.
When you want attorneys near you that you can trust, give us a call. We are proud to serve Akron, Canton, Medina, and Ravenna with leading representation, professionalism, and support throughout your case.